If you like the spooky vibe of Halloween but hate the work that goes into putting up and taking down decorations, you might be considering skipping it altogether this year. But studies show that decorated offices can boost employee motivation and make productivity skyrocket, so dig out your boxes of decorations and start decorating for Halloween!
Here are 10 easy ways to decorate your office for Halloween, no Pinterest projects or special trips to Hobby Lobby required.
10 Easy Ways to Decorate Your Office for Halloween
Increase your scare factor (while boosting productivity!) with these 10 easy ways to decorate your office for Halloween. The furthest you'll travel is to the dollar store and back to give your office a Halloween-inspired makeover.
1. Copious amounts of spiderwebs
Spiderwebs are an inexpensive way to make your entire office look spooky, stat. You can purchase bags of the white, stretchy material in most places for $1. They are simple to put up and take down and don't damage surfaces.
2. Orange, green, and black balloons
Choose the colors you want to match your party's theme – in this case, orange and black, green and black, or any combination of muted fall colors. Here's a cool example of a doorway arch done with balloons – you can do this or scatter balloons around the office.
3. Orange and black streamers
Streamers are another inexpensive way to really change the scene. Just grab a few rolls of orange and black crepe paper and twist them or leave them straight to create cool visuals. Try holding two contrasting colored streamer strands and twisting them to create a different look. Make sure you leave plenty of headway for walking and work spaces!
4. Tablecloths
Desks and tables can be covered in tablecloths for a quick, easy decoration. You can use special tablecloths like the one pictured above or opt for dollar store solid colored tablecloths for a more cost-effective option that is still festive.
5. Door covers
Door covers are fun to make, and can easily be purchased ready-to-hang if you're short on time or creativity! Most places that sell Halloween decorations have door covers available. If you're making your own, use streamers or crepe paper, posterboard, feathers, pipe cleaners, etc. to make your cover textured and more realistic.
6. Candles
There's something spooky about candles. Maybe it's the role they play in some dark rituals. You can scatter cool candles around your office to make it look more like Halloween – white candles in upright candlesticks are classic, or you can make Halloween themed candles by following a quick tutorial. The candles above are just clear jars with colored twine glued to them.
7. Flickering lightbulbs
These add a really cool visual effect – look for black lights and flickering lightbulbs to make your office look a little spookier. Bonus points if you can get a strobe light!
8. Pumpkins – decorated or carved
Pumpkins are always a Halloween must. If you don't have time to carve pumpkins, just paint them, draw designs on them, or add pumpkin decorations (sunglasses, Mr. Potato Head-style features, etc.).
9. Hanging ghosts, bats, witches, etc.
Add a few hanging decorations to really set the tone – anything Halloween related will work. Above are hanging pumpkins, but you can use candy corn, witches, moons, cats, bats, skulls, tombstones, etc.
10. Fog machine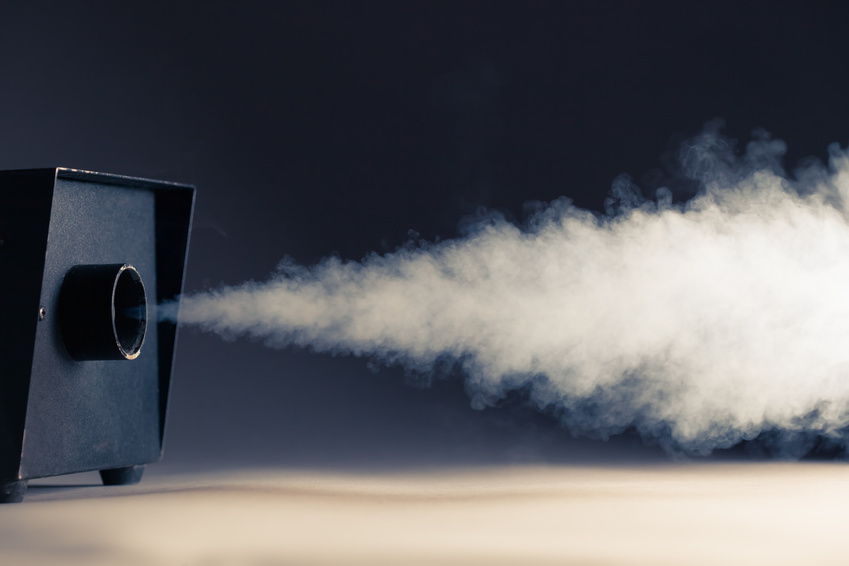 The fog machine is the ultimate Halloween party tool. It creates a spooky atmosphere anywhere, even in a sterile office. If you can get your hands on a fog machine for your office Halloween party, it just may turn out to be your best party yet.