Faced with the task of building a cohesive and close-knit team? It's harder than it sounds, but far from impossible. Even groups that appear to have nothing in common can learn to work together more effectively by using the right team building exercises.
Team building exercises are designed to break down social barriers among teams and help people get to know each other quickly by putting them in situations where they have to work together to achieve the desired outcome. They're also good for a laugh in many cases, as you'll see below.
Team building exercises for small businesses
Check out these team building exercises perfect for small businesses. We'll start with a few effective team icebreakers and move on to team building exercises below.
Team icebreakers
Before you jump into team building exercises, it's best if everyone is comfortable around each other and knows a bit about everyone in the team. It helps the group to think of each other less as strangers and more as teammates. Here are two easy team icebreakers to try with your team.
Try the Human Knot
In the Human Knot, the team first creates a circle with everyone facing each other. Then, each team member holds out their right hand and shakes hands with someone else in the circle (it can be anyone they can reach). Now, direct the team to keep hold of the person's hand they've grabbed and extend their left hand to someone else in the circle.
Starting to get tricky, right? Now, have your team attempt to undo the human knot by ducking under each others' arms, stepping over one another, turning around, etc. They'll need to work as a team to get un-knotted, and the fun lies therein. It's a great icebreaker for new teams.
Two truths and a lie
You can have your team create a closer bond and get to know each other better by asking them to participate in Two Truths and a Lie. Each team member will write down 2 facts about themselves that their team mates probably wouldn't know as well as 1 lie about themselves.
As the leader, you can read the statements aloud to the team and ask people to vote whether a statement is a truth or a lie by raising hands. Have the team member who wrote down the statements reveal which is the lie. It's a fun exercise that helps team members learn about each other, find commonalities, and spark conversations.
Related: No I in Team: The Importance of Teamwork in the World of Business
Team building exercises
Attend or hold a game or match as a team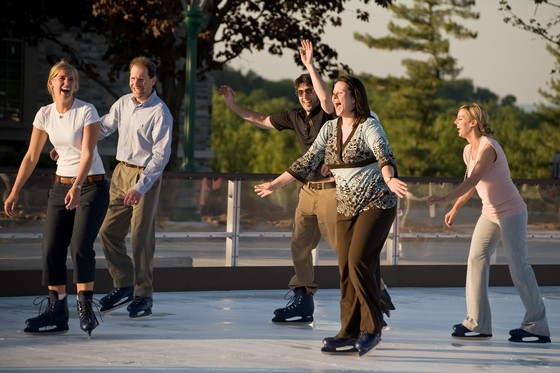 You don't have to be a sports lover to enjoy a game or match with your team. Have everyone meet up at the office and arrange for transportation to a game or match being held nearby to give your team a great bonding experience.
It will bring out their competitive nature and provide an opportunity to get know each other a bit better outside of the office. Alternatively, you can have everyone get involved on a deeper level – try ice skating, bowling, batting cages, etc. to give each team member an opportunity to stand up and try something new with the team.
Work together on obstacle courses
Ropes courses and obstacle courses have been considered excellent team building exercises for decades because they really work. Most people have never attempted an obstacle or ropes course, making the experience new and exciting for everyone involved.
Some team members might not like doing obstacle or ropes courses – fear of heights, being out of shape, performance anxiety, etc. – but making it optional might help you make wary team members more comfortable. This is a good time to encourage team members to be motivational to one another without being pushy ("I know you can do it! You're already halfway there!")
Related: How to Find and Hire a Remote Team for Your Business
Build a cardboard & duct tape boat
This is an oldie but goody. The premise behind building a cardboard and duct tape boat is that it's sure to sink – how quickly depends on your team's ingenuity in designing it. Provide large sheets of cardboard (broken down boxes work perfectly) as well as cardboard scraps and plenty of duct tape for each team – nothing else.
The teams will be responsible for molding the sheets of cardboard into a boat-like shape and using duct tape to not only hold it together, but make it more "waterproof."
The best part of this team building exercise? Having everyone compete by choosing one team member to row the cardboard boat in a nearby body of water. You can provide oars or have team members make their own with cardboard and duct tape for added difficulty. The winner is the boat that stays afloat the longest.