There are 347 million users on LinkedIn in 200+ countries and territories
Eighty percent of LinkedIn users say they want to connect with companies there; those who follow a company are 50% more likely to make a purchase from them
Just 57% of companies use a LinkedIn company page
LinkedIn has a 2.74% conversion rate – the highest of any social network
LinkedIn should be a major part of your marketing strategy if you're selling to professionals or other businesses. If you're having trouble garnering engagement on this social network, you're not alone. The rules are a bit different on LinkedIn.
4 Tips to Get More Engagement on Your LinkedIn Company Page
These 4 tips will help you stir your audience and start getting engagement without requiring a strategy overhaul. Check them out!
1. Switch up your images
LinkedIn isn't traditionally a visual social network, but if you're planning on driving engagement and grabbing your audience's attention, you need to pay more attention to the images you're using. Images attract our eyes and usually double the number of clicks and rate of engagement any given post or update receives.
If you haven't been using images at all so far, you'll see major improvements in engagement levels simply by adding some images to them in the future. If you've been using images, but they're too small, grainy, or simply outside of your audience's interests, it's time to switch things up.
Look at similar businesses' LinkedIn company pages. What types of images are they sharing? How much engagement are those images receiving? If you can't find any existing examples to emulate, just start testing different image styles and subjects out. You'll find what works best for stirring engagement on your LinkedIn company page.
2. Try some videos
Videos – they keep telling us they're the wave of the future and that they drive more engagement than text-only and photo updates combined. This is a great reason to create some videos in attempts to drive more engagement on your LinkedIn company page. If that seems like a monumental task, don't worry – there are a few different types of videos you can try that don't necessarily require a lot of technical know-how.
Short videos (15 seconds or less) – You can create a short video that emulates the quick video clips seen on popular social networks like Vine and Instagram. It's easier to hold someone's attention for a short period of time than a longer period, so many people new to video game (no pun intended) start out with short videos of less than 15 seconds.
Event videos – Event videos show glimpses of you or your employees functioning at a company or professional event. It shows the "human" side of the company while entertaining your viewers. If you're camera-shy, just show clips of your booth, the event decor, others you've met at the event, your itinerary, etc. Be creative! People love taking an insider look.
Interviews and introductions – Original content is king, so if you can interview a well-known person in your industry or a satisfied customer, your viewers will love to watch. Alternatively, you can introduce someone from your company on video, another great way to show the human side of your company and drive engagement. Ask viewers to comment their congratulations to the person you've introduced or to make the person "feel welcome" – you'll be shocked at the number of likes and comments your video gets!
3. Get to the point
Shorter updates perform best – the proof is in the pudding. Check any major brand's LinkedIn company page and you'll notice that the updates are stunningly short. That's not an accident. On LinkedIn, you're dealing solely with professionals. These people are, like you, very busy folks. They don't have time to read long updates, no matter how enlightening and life-changing they may be.
So keep your updates short and get to the point quickly if you want to increase your engagement on your LinkedIn company page. You'll start seeing results as soon as you implement the changes.
4. Add a Follow Us button to your website
If you get more traffic on your website than on your LinkedIn company page, you can divert some of that traffic by adding a Follow Us button to your website. By placing a button directly on your website, you give your website visitors the option to find you on LinkedIn and easily follow you without having to dig and search for your company page. You remove the barriers that might, in other cases, keep someone from clicking "Follow" on LinkedIn.
Here's what the button builder looks like on LinkedIn's developer page (click here to view the page).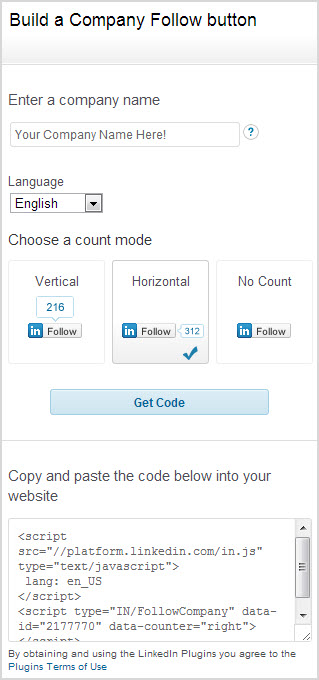 Just copy and paste the resulting code into your website to add the Follow Us button wherever users will see it.
Getting more engagement on LinkedIn doesn't have to be complex. Chances are, you're putting more effort into other networks than you are on LinkedIn. That doesn't mean it's too late to see conversions from your efforts! Implement the above 4 tips to start seeing the needle move on this network for professionals. Leave your LinkedIn tips in the comments section!