Are you monitoring your company mentions and reviews online? What are your customers saying about you?
The internet is a vast place where customer comments about your business can seem small and insignificant. But research has shown that that isn't the case, with more than 83% of consumers reporting that online reviews about companies do influence their perceptions about the company. Eighty percent say negative reviews or comments online about a business have changed their purchase decisions in the past.
Now that we know just how important online reviews and comments about your company are to consumers, the next step is managing your reputation by monitoring your company mentions and reviews online.
You can easily set up automatic processes to check the web for new mentions of your company name or select keywords using free tools made for this purpose. We'll show you how below.
Monitoring Your Company Mentions Online
---
1. Mention
Mention gives you the ability to listen in on conversations involving your company, your name, or any relevant keyword you select. The free plan is limited, only allowing you to track one term for online mentions, but tracking your company name will be a great place to start monitoring your company mentions online.
You'll receive an email detailing the mentions your keyword has received that day (if any) and when you visit the website, you'll be able to view detailed information about who mentioned you and in what context. It's a great way to keep track of who's using your information or content online, as well.
2. BuzzSumo
BuzzSumo is a bit different from Mention. Instead of automatically tracking keywords for you, the free account allows you to search any keyword or URL to find the number and type of related social shares. The example above shows a search for the keywords "content marketing." We regularly use BuzzSumo track the social shares for Conversational's blog posts by typing in http://www.conversational.com. It automatically pulls the most-shared articles from that URL and ranks them in order of the number of shares on each network.
The paid plans on BuzzSumo offer more features for tracking influencers, monitoring your company mentions, and keeping up with content trends.
3. SocialMention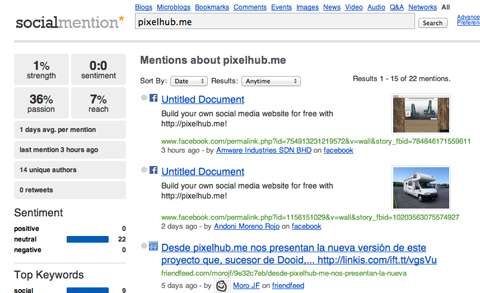 SocialMention works similarly to Mention and BuzzSumo, but provides the sentiment surrounding your company on social media. Using SocialMention, you can monitor more than one website and learn the most common keywords people use when talking about your company. That can paint a useful picture of the way customers react to and talk about your brand online.
You can sort results on SocialMention by date, source, and time posted. You'll be able to see clear indicators of how positive, negative, or neutral the statements surrounding your company online are.
You can use any of these 3 tools when monitoring your company mentions online. Some find it best to use more than one tool to get the most well-rounded view of the way consumers react and talk about their brand online. Do you have any tools you use to track online reviews and mentions of your company? Leave them in the comments!