If you found this page while looking for a list of motivational quotes about business, you came to the right place. This is not a copy/pasted list of quotes that happen to be about business, success, or failure – we spent a few hours researching to find the best and most truthful quotes about business, and that meant going beyond lists of quotes that were already compiled.
We've seen so many of the same quotes repeated in lists like these – the prerequisite Winston Churchill quote, that one by Thomas Jefferson – and we wanted to find quotes that spoke about deeper truths. We think we've succeeded.
Here's a list of the most truthful and inspiring quotes about business – if these don't motivate you to take action today, nothing will.
Motivational Quotes About Business
---
Live daringly, boldly, fearlessly. Taste the relish to be found in competition – in having put forth the best within you. – Henry J. Kaiser
Pick out industries that don't have celebrities — then become the first one. Big ponds are overrated. – Scott Ginsberg
You were born to win, but to be a winner, you must plan to win, prepare to win, and expect to win. – Zig Ziglar
Hire character. Train skill. – Peter Schutz
The things that excite you are not random. They are connected to your purpose. Follow them. – ThinkGrowProsper
Winning is not a sometime thing; it's an all time thing. You don't win once in a while, you don't do things right once in a while, you do them right all the time.Winning is habit. Unfortunately, so is losing. – Vince Lombardi
Anything that gets your blood racing is probably worth doing. – Hunter S. Thompson
Whatever the mind of man can conceive and believe, it can achieve. Thoughts are things! And powerful things at that, when mixed with definiteness of purpose, and burning desire, can be translated into riches. – Napoleon Hill
To be successful, you have to have your heart in your business, and your business in your heart. – Thomas Watson, Sr.
To succeed, you need to find something to hold on to, something to motivate you, and something to inspire you. – Tony Dorsett
A business that makes nothing but money is a poor business. – Henry Ford
Things work out best for those who make the best of how things work out. – John Wooden
You've got to say, I think that if I keep working at this and want it badly enough I can have it. It's called perseverance. – Lee Iacocca
Perpetual devotion to what a man calls his business, is only to be sustained by perpetual neglect of many other things. – Robert Louis Stevenson
Our major obligation is not to mistake slogans for solutions. – Edward R. Murrow
If you are not embarrassed by the first version of your product, you've launched too late. – Reid Hoffman
Forget past mistakes. Forget failures. Forget everything except what you're going to do now and do it. – William Durant
I find that when you have a real interest in life and a curious life, that sleep is not the most important thing. – Martha Stewart
Success in business requires training and discipline and hard work. But if you're not frightened by these things, the opportunities are just as geat today as they ever were. –  David Rockefeller
Success is liking yourself, liking what you do, and liking how you do it. – Maya Angelou
Nothing great was ever achieved without enthusiasm. – Ralph Waldo Emerson
The things you are passionate about are not random – they are your calling. – Fabienne Frederickson
If you are going through hell, keep going. – Winston Churchill
Life's challenges are not supposed to paralyze you; they're supposed to help you discover who you are. – Bernice Johnson Reagon
The successful warrior is the average man, with laser-like focus. – Bruce Lee
You can't connect the dots looking forward; you can only connect them looking backwards. So you have to trust that the dots will somehow connect in your future. – Author unknown
You have to trust in something – your gut, destiny, life, karma, whatever. This approach has never let me down, and it has made all the difference in my life. – Steve Jobs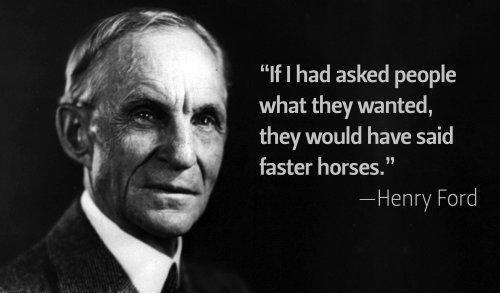 If I had asked my customers what they wanted, they would have said a faster horse. – Henry Ford*
If you don't value your time, neither will others. Stop giving away your time and talents. Value what you know and start charging for it. – Kim Garst
Optimism is the faith that leads to achievement. Nothing can be done without hope and confidence. – Helen Keller
People become really quite remarkable when they start thinking that they can do things. When they believe in themselves, they have the first secret of success. – Norman Vincent Peale
Progress always involves risks. You can't steal second base and keep your foot on first. – Frederick B Wilcox
---
*Harvard Business Review calls this quote into question, as it can't seem to be substantiated as a true quote by Henry Ford. Read this article for more information. We included it here because regardless of the person who uttered it, it's a great quote and reminder for business owners to be innovative.